OVERALL ANIMAL NUTRITION INC.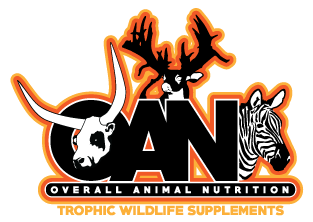 Mission Statement
Overall Animal Nutrition is a family owned business based on integrity and science. Our goal is to improve wildlife and domestic livestock herd health using over a decade of extensive research in the science of nutrigenomics. 
After ten (10) years of research and development on Natures Formula IGF-1, we scientifically formulated pre-mixed feed supplements with precise levels of vitamins and minerals that assist with natural tissue development in deer.
Our Pre-mixed formulas were developed using the science of nutrigenomics by formulating structured vitamins to increase the natural levels of Retinoic Acid that enhances tissue development during the seasonal transformation period occurring annually in small ruminants including all species of antlered deer, wild goats, wild sheep, and antelope.  Therefore increasing the volume of growth serums that deliver the essential building components necessary for maximum seasonal tissue development, setting a platform of structured nutrition formulated to produce results and maximize your genetic potential.
Each of our pre-mixed packages are precisely formulated for custom blends of deer pellets and other deer feeds manufactured at any feed mill in America willing to formulate rations designed for commercial operations and deer breeding facilities practicing strict nutritional guidelines.
We have manufacturing partners and contractual agreements with licensed feed mills in 25 states through the distribution channels of Nutra Blend Corporation, Neosho, Missouri, to provide our customer base with Natures Formula IGF-1 supplements.

The Nature's Formula Feed Additive Premix 
#A20164A4
NO ADDITIONAL COPPER IN THIS PRODUCT
Can only be purchased by Feed Mills serviced by Nutra Blend. Nature's Formula feed additive for finished deer feed.
Call your favorite feed manufacturer and ask for it.